Went down to Sues Bridge on the Aus Day semi long weekend. Left Wednesday arvo for an overnight stop with rellies in Nannup. On the Thursday we set up at Sues Bridge campground. It was HOT!!! all weekend but there was plenty of water in the Blackwood to cool off in the afternoon.
Camp arrival: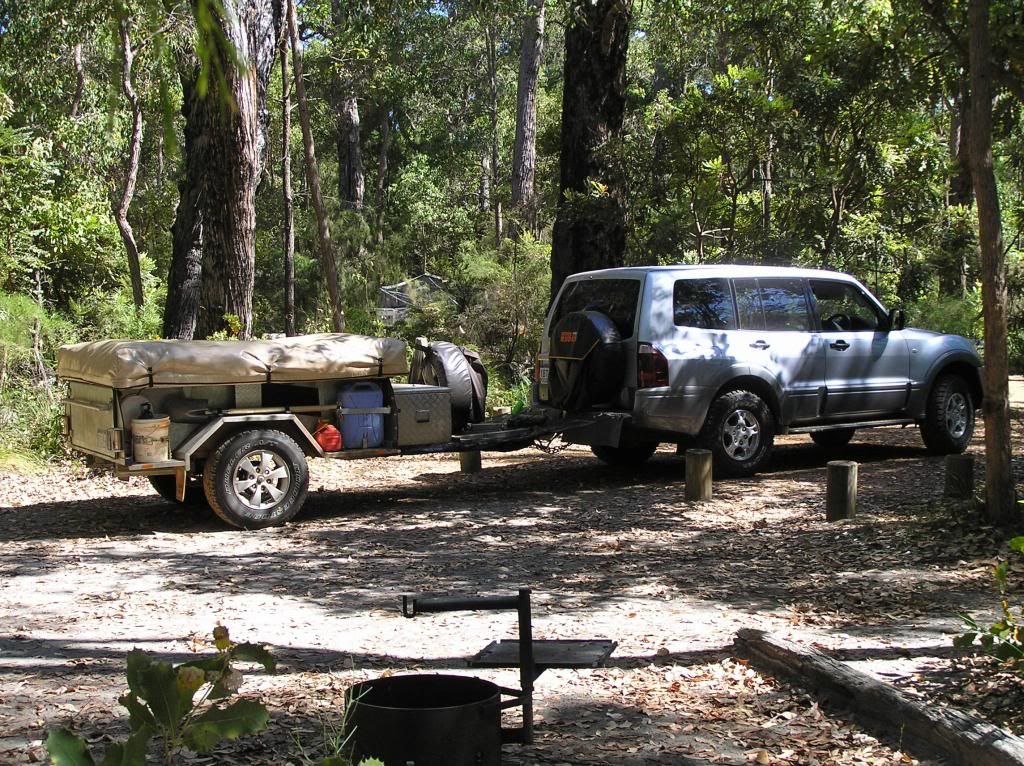 Camp set up: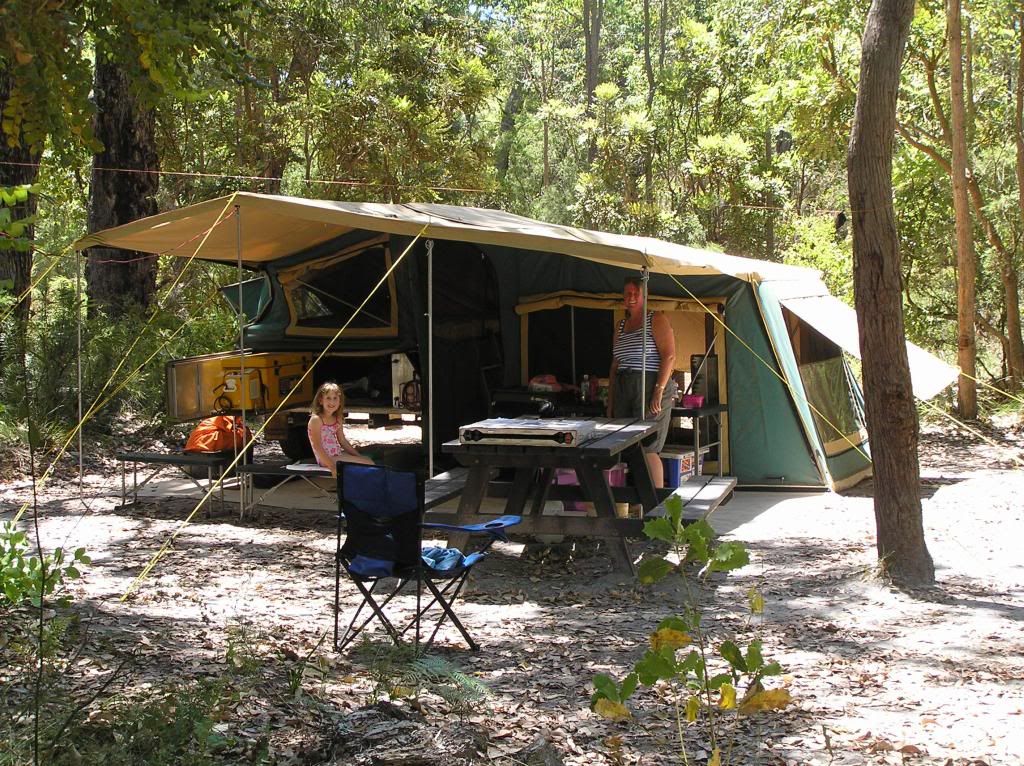 Whilst I found the campsite relatively shady, quiet and had about 25 sites (only 3 of which were camper trailer sites), I found the usual problem soft floor campers have. They make sites very narrow and long. This is fine for hard floor types but can be a real pain for soft floors. Especially if you have a big tent top. I need 5 meters......The drop dunnies were good, they had rubbish disposal but they didn't have any showering provisions.
Night time Bandits: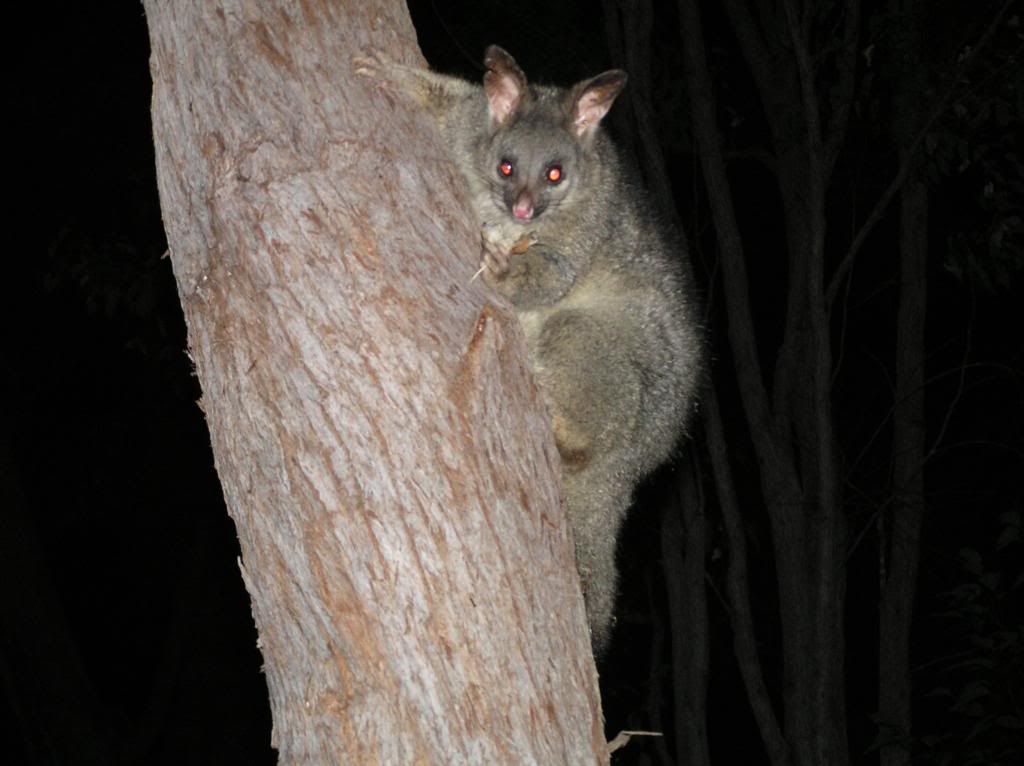 On the first night we got hammered by these little buggers. They were very unwary. I even put my hand out, one came up, had a sniff, then CRUNCH. I was prepared and whilst I got a feel of its rodent like front teeth, It didn't get enough of a hold to break the skin.
Keeping the kids occupied: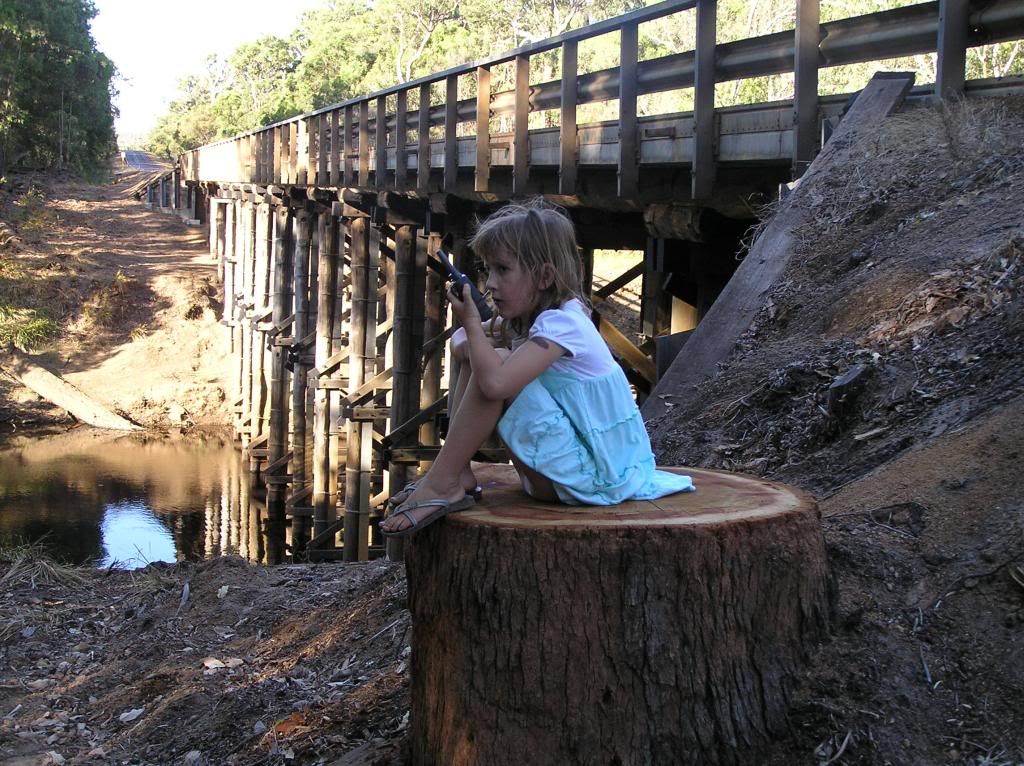 Mum took the kid for a walk later in the afternoon whilst dad was fine tuning the camp (read: beer o'clock). She just loves venturing off talking to dad on the "talkie Talkie"
Out and About: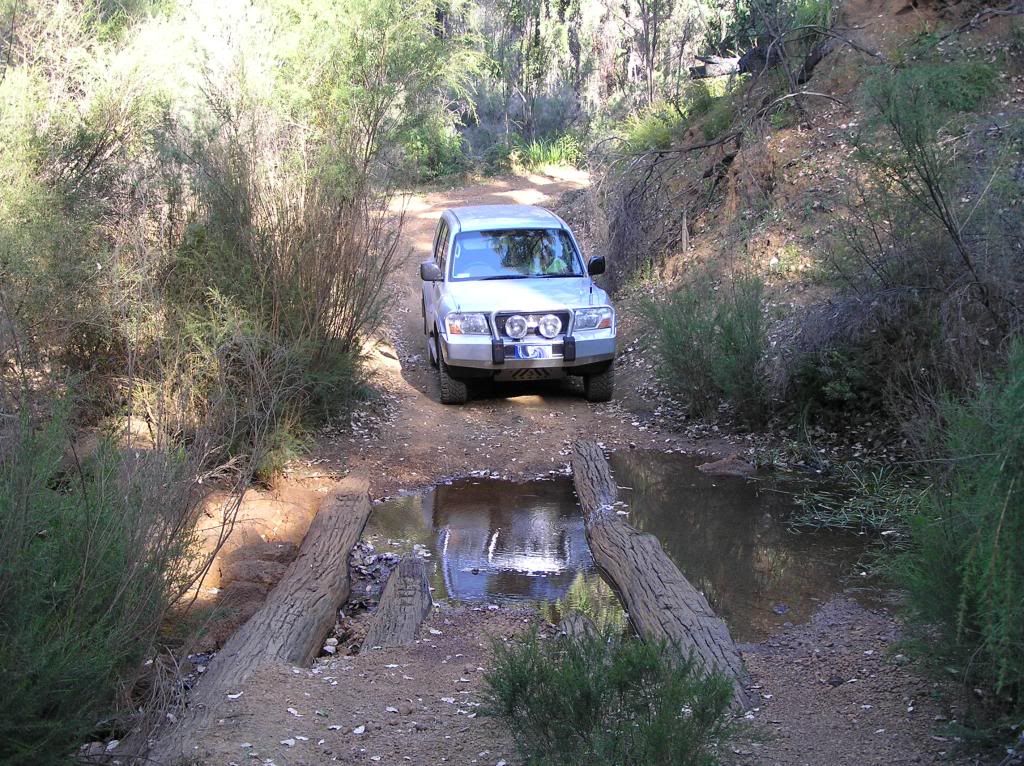 Over the next few days, we did a bit of geocaching all whilst exploring the surrounding bush tracks. There is a lot of country to explore here, and if you stick your nose in, you'll find plenty of secluded bush camps. Problem being, as I've always found, you need to be there a week earlier as they are all gone. School Hols, semi long weekend and marron season doesn't help the cause. Having said that, I think I preferred the DEC site anyway and at $14 P/nite, you couldn't go wrong. I didn't take many pics of the blackwood, secluded camps or track scenery sorry.
Teaching the fine art of geocaching: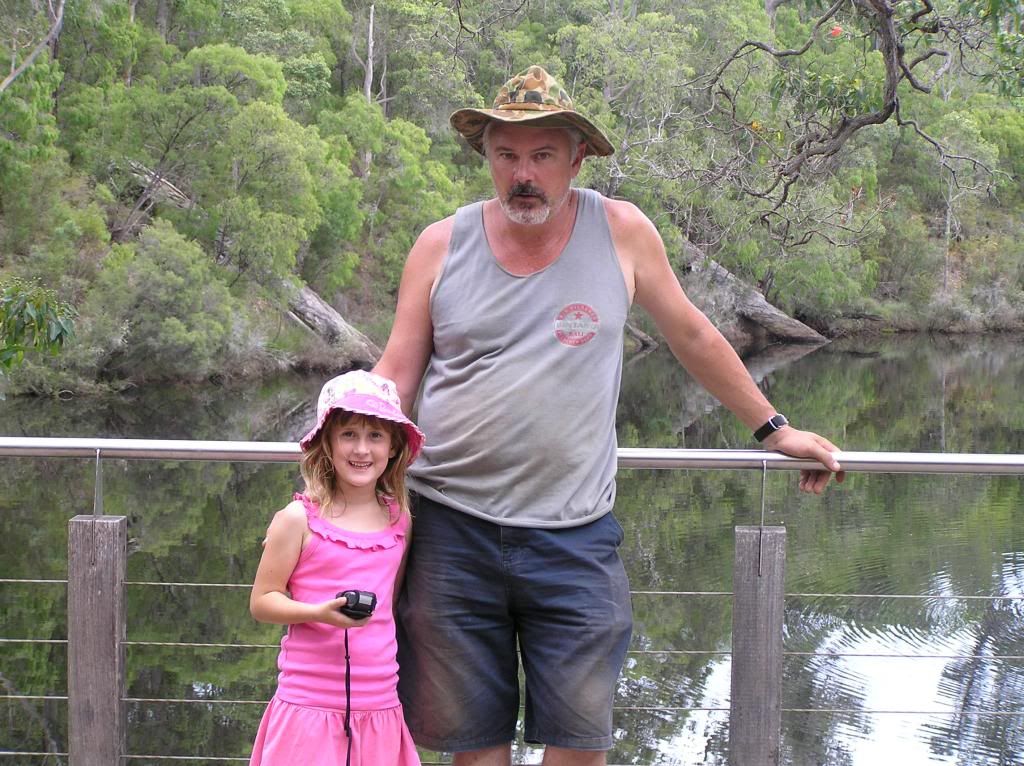 And the spoils to be found: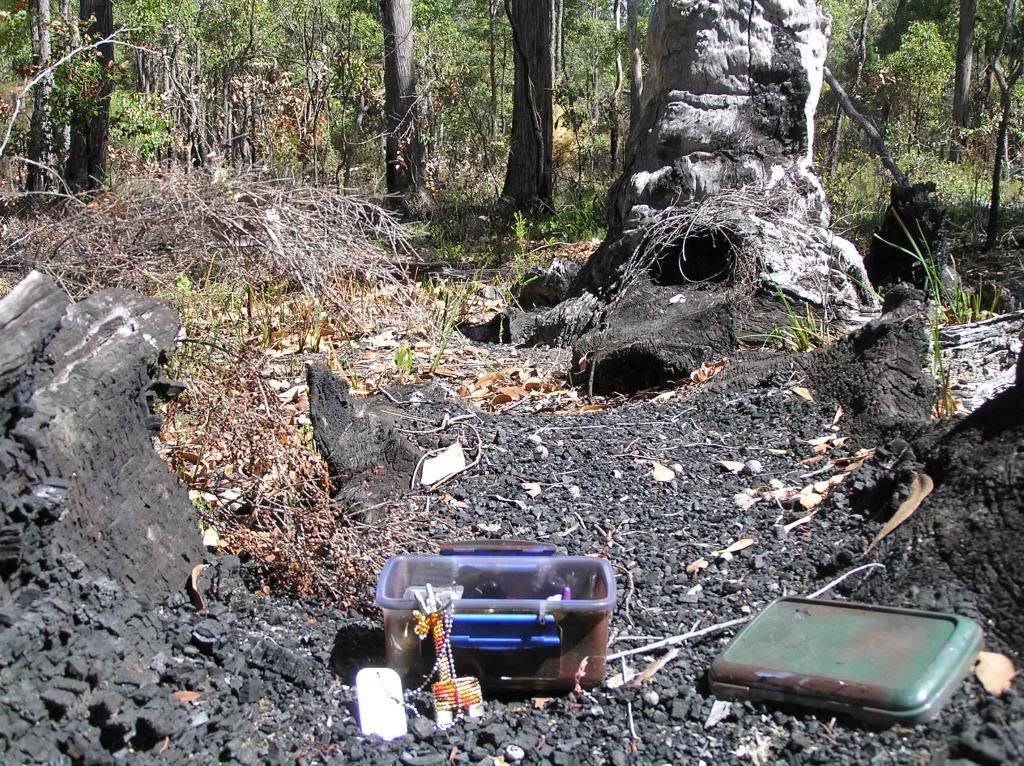 The new STT Maxx's I fitted the week prior performed brilliantly on the corrugated and loose gravel tracks. On the return trip, I decided to take the gravel through the forest rather than the blacktop. As is usual with this part of the world, you need to be wary of fallen trees. Most tracks had bypass tracks made. One in particular was very tight with the camper in tow. Almost had to manually skull drag it through, but I got there eventually. Another fallen tree almost caught me out, didn't see it till the last minute (looking at my sat nav again). ABS was doing its bit, a tonne of camper was pushing me along and I was just aiming for the gap[blush] . It wasn't excessive speed, just inattention on my behalf. Also some of these tracks look major on the maps but have closed in considerably. I prefer the wider more used ones these days, especially when towing. I didn't have to reverse out of any.
Tracklog: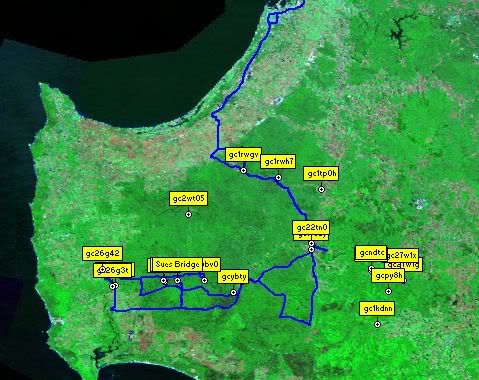 So a few relaxing days in the southwest forest and got my camper out again after about a 6 month lie up. A bit of bush exploring with a swim every afternoon and a relax with a beer late arvo.....You cant go wrong. Get yourself out there, there is lots to explore down that way.